The Early Childhood Innovation Center (ECIC) at Delaware State University unapologetically advocates for the success of Early Childhood Education professionals. We strive to empower and cultivate a highly skilled, educated, and diverse workforce by providing holistic, comprehensive, and evidence-based supports.
Why Does Early Childhood Education Matter?
Early childhood educators deliver a child's first educational experiences, and play a vital role in their development. The quality of a child's educational experiences in that critical early window from birth to age eight will help set the course for their entire lives.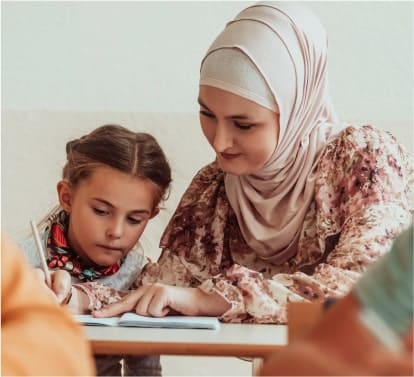 By supporting these educators and investing in this workforce, we can improve both the quality and access of programming for young children. The ECIC was created to help provide this support, helping early childhood educators gain access to all the resources they need to provide developmentally appropriate and enriching experiences for children. From robust scholarship programs to holistic CDA® cohorts and individualized career advisement, the ECIC stands by the motto, "When educators thrive, our children thrive."
Learn more about the ECIC mission and how you can get involved to help rewrite the educational experience for Delaware's children.
Child Development Associate® Program
Learn more about the Child Development Associate® (CDA) program and start your path to success.
Associate
Program
Learn more about Associate degrees that are eligible for the scholarship program.
Bachelor's
Program
Learn more about Bachelor's degrees that are eligible for the scholarship program.
Don't Know Where to Start?
Reach out to us! Our team is standing by to answer any questions you might have and talk through your goals for your career in early childhood education.